This is the update I've been waiting for! I seriously have to catch up on my updates. Because I thought I had the most amazing update ever, but then today was July the 4th and I have ANOTHER awesome update waiting. So I better get these out of the way.
Anyways...
I am by no means a sports nut. I don't watch any sports back home and I don't read any of the sports columns in the newspaper. I don't play any sports very well and I sure don't support any teams of anything. But being in LA, and being the season for some sports (NBA finals just finished quite recently and summer is baseball season) and the Lakers being in the NBA final and the Dodgers having one of their best seasons ever, I was inevitably sucked into the vortex that is sports.
I watched the NBA finals live on TV and the other day I went to the Dodger Stadium to watch my first ever baseball game.
BASEBALL IS LE AWESOME! It's such a cool sport. It's relatively slow and it lasts forever but it's got such great moments in the game that just make it an awesome experience. You don't have that sense of supreme competitiveness or excitement that you get from a fast paced game or sport like badminton doubles or boxing or 100m sprinting but it's a game that's just awesome because it's wrapped in so much tradition.
Take for example, the singing of the ULTIMATE baseball song 'take me out to the ball game'. Yeap, everyone in the stadium paused halfway during the game to sing that song. It's tradition. And you've got that old lady playing the organ in the background and people clapping in unison and all sorts of interesting traditions. You have the traditional hotdogs, pizza, cotton candy and popcorn sellers walking up and down the isles all day long. And then there's something called the 7th inning stretch - you get up after the 7th inning and stretch because you've been sitting down for so long. It's just so much fun! It's not just the game that's fun... if the game was without all this tradition, it would most certainly be quite boring. But because it is wrapped in so much tradition, it's just awesome. And nothing can truly beat a stadium atmosphere.
So, without further ado...
PICTURES!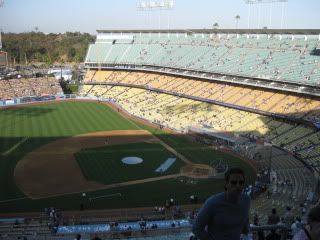 So this is the inside of Dodger stadium, home of the LA Dodgers. It's not particularly full yet, but it did fill up quite a bit that night - full enough to do a pretty good mexican wave.
The oh so famous advertising board.
And the guys wetting the sand... for reasons unknown to mankind.
Obligatory pictures of me at the stadium...
And my roomie Daniel and David from church..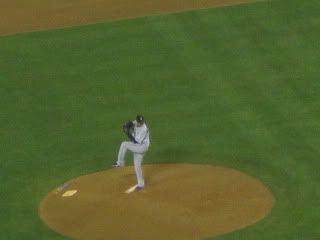 And the game played well into the night... it's a 3 hour game baseball is. But it's really fun.
And that was my Baseball adventure. First baseball game ever and it was awesome. I might go again sometime. There's 162 games in a season.. which is why you can get tickets for 9 dollars.
___________________________________
*******************************************
Bonus Chapter - You're never too far from home Pt 2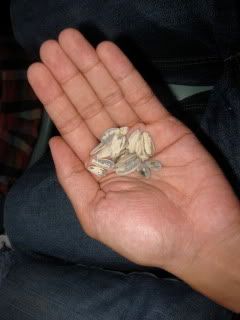 No points for guessing what that is.
********************
NEXT TIME ON THE GREAT HOLIDAY ADVENTURE!
The Holidays go out with a BANG! with the amazing JULY 4TH ADVENTURE!
STAY TUNED FOR THAT!
*insert ending credits music*