It was a dark and stormy night... no wait.. no it wasn't.
It was a long night. I was up late because of unforseen circumstances as you might have deduced if you've been following me on tweet. I expected to sleep myself back into relaxation mode on Sunday afternoon. I was almost nodding off in church that morning.
But along came an unexpected adventure. I was invited into a short road trip up to somewhere (I can't even remember anymore) and somehow, I bizarrely ended up in a place called the Ronald Reagan Museum and Library. Which was fun...
Now I'm not one for museums really... I don't really like walking around in a museum unless it's with some friends who go nuts and laugh at everything. I go to museums to find the funny in the facts, not to learn anything. But what the heck...
The highlight of the adventure was stepping into something monumental.
Points for guessing what that is.
Going once..
Going twice..
Gone.
It's Air Force One. The real thing. Not some replica. It's the real damn plane that flew 7 different Presidents around the world. And it was decommissioned in (insert wikipedia fact here) and moved to this museum. Sadly I don't think I was allowed pictures of the inside. But it wasn't as spectacular as you think it was. It's still a plane after all. I've seen 'movie jets' that look far better on the inside. Still.. it's monumental to think of it. I also got to see the Presidential bullet and bomb proof limousine - which I didn't take pictures of... and this.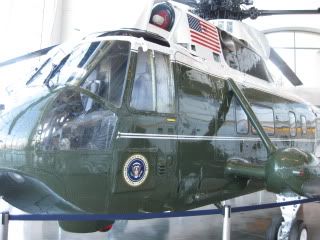 That's the Presidential helicopter thingie..
And some other pics from around the museum.
The replica Oval office..
And an attempt to show the oval-ness of it by taking a picture of the roof.. Clearly I failed
A copy of the Declaration of Independence (I think.. hey I did say I was sleepy)
Ronald Reagan's ridiculous belt buckle collection (I want a collection like this too...)
A scaled version of the Garden thing in the white house
And the prompt warning that came together with the garden.
And lastly the Reagan Memorial.
There was also a bit of the Berlin Wall... and I totally didn't realise what it was until it was time to go so I couldn't get a picture of it. Sleepy me.
So indirectly, I've seen the White House.. which is nice.
An unexpected adventure indeed.
Stay tuned for a new LPW coming up.