Necessity is the mother of invention. Especially when you are a student. And you have no money. 
So the dryer in my basement had a problem the other day. It doesn't usually happen, but my clothes didn't dry completely. Strange that they call it a dryer when it doesn't dry. Maybe should call it a not-so-dryer. So I had a problem. There was no where to hang the clothes to dry, the windows were blocked with permanent mosquito netting fixed on it. 
So, being the genius that I am, I invented 'STUDENT HANGER VERSION 1.0'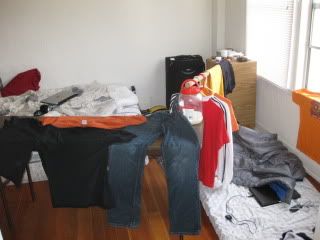 If you look carefully, that's actually the wooden rod from the closet propped up on my table and my side cupboard. And to make it higher, there's actually a small plastic container with a red cap - see it?
That little container serves a very unique purpose. 
Second problem - my roommates took the couch with them when they moved out, so I have a table, but no chair. I have a steamy bowl of noodles waiting to be eaten, but there is no way you can eat noodles standing up, or sitting on the floor with the bowl on the floor. 
So, out of my genius brain comes my second invention - 'STUDENT TABLE VERSION 1.0'
That's the same little container - it's actually used to put my rice. And it's the perfect height for me when I sit on the floor. 
Life as a student... it's a unique experience.
-KJ