So I forgot to bring my camera cable the other day. So I couldn't update my blue cheese dressing pictures. 
THERE! The dangerous dressing. It looks so tempting doesn't it? But it's scary. And I have a whole bottle to finish now. DUN DUN DUN!
Anyway, moving on.
I bought a brick the other day. Yeap, you read that right. I bought a brick. For a 100 dollars. It's not an ordinary brick though. It's made of 12 parts. Each part can be divided into two equal parts. And it's quite heavy. And it's made of wood.
TADAA!!!
That's a brick of sticks. I needed to get some sticks for my practice. That's about 8 bucks per pair. And I hope that lasts me till forever. I hope.
And another thing, I've been practising like a maniac. And I have proof. You know sometimes when you use a part of your body too much it starts to show signs of wear and tear or just plain hardening up to the abuse? Kind of like how people get that 'weathered' look when they spend too much time out in the sun or something? Well... The very same thing has happened to my finger. For those of you who don't know, I play drums with a grip that has the stick resting on my ring finger in my left hand. And after all the maniacal practice, my finger has become discoloured.
Yeap. That's not dirt or some kind of lighting effect. That is actually a dark brown discolouration happening to my skin. The skin there is also particularly hard and rough. Scary eh?
Last bit of this mumbo jumbo update. I'll say this - 'You're never too far away from home.'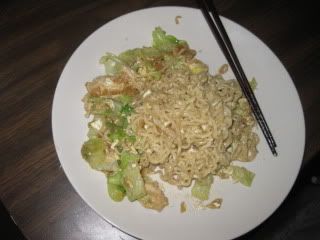 MAGGI GORENG! TADDAA!!!
-KJ