Ok, this is one of the main reasons why I started this blog and is perhaps gonna be one of the most awesome posts I ever make in my life. 
Yesterday, me and two friends went to the Catalina Jazz Bar and Grill for a concert.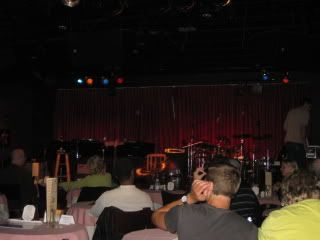 That's what it looks like inside. Of course due to my camera flash and settings, you can't see the warmness of the place, but imagine that place a little more yellow and much dimmer... Very very cosy and awesome.
And guess who was performing? Chuck Loeb and .... 
*drumroll*
DAVE WECKL!
OH YES, I got to see Dave Weckl LIVE! Not only that, but I was like 20 feet from him the whole time!! And he walked past our table several times!! 
I felt like like a little schoolgirl.
But come on.. one of my FAVOURITE drummers and one of the most AWESOME ever! And I got to see him live!
Sadly his face was blocked by a cymbal from my angle so I managed to take pictures of his hair. But no matter....
I managed to meet him after the gig! And shake his hand and take a picture with him! 
YES! THAT'S ME! NEXT TO DAVE WECKL! WHOOOOHOOO!!
That was seriously an awesome night. And one that I won't forget easily. To be standing right next to such an awesome drummer and to see him perform live and see one of his insane solos up close... that was just amazing. So worth the 30 bucks that I paid. AWESOME!!!
I could barely sleep that night, sniggering to myself over the thought of meeting Dave Weckl... seriously schoolgirl man... I can't believe myself. 
This one goes into the KJ's AWESOME AMERICAN ADVENTURE FILE! (If there was one)
Till next time folks!
DAVE WECKL!!! WOOOTT!