It's finally here! I have over 60 pictures to share. Most of them are what I call 'postcard' pictures. Well, there are a couple with me in them, but for the most part - since I'm the one taking the pictures - they are of mountains and stuff. But they're certainly pretty.
Ok where to begin.
At the beginning I suppose.
Day 1.
I went up to
Mammoth
this last weekend. A weekend in the mountains, with the cold and the snow. It was quite a bit of fun I must say. It was a long drive - 5 hours on the road. Well, more than that because it was snowing pretty heavily on Friday night. We left in the afternoon and hit snow after dinner. Had Mexican for dinner. Tortilla chips and salsa can be ridiculously addictive. Especially when you have a free flow of it.
I must admit, I forgot to take pictures of EVERYTHING which I normally do. I dunno, my mind was perhaps preoccupied with snow. Waiting to see snow and experience it, I forgot to periodically whip out my camera and snap pictures of everything. So let me mention the other things I missed out of my photos.
When we hit snow, one of our cars had to get
chains
on. That's for snow grip.
It was snowing pretty hard on Friday night. Imagine night driving. Now add snow. It's even harder to see through than rain. Because it blocks out your headlights.
Ok, I guess I didn't forget that many things. Picture time.
On the road to Mammoth.
First sight of our snowy mountains.
Arriving at our destination. You can see how heavy it was snowing.
Path to our cabin.
Me outside.
First foray into the white stuff.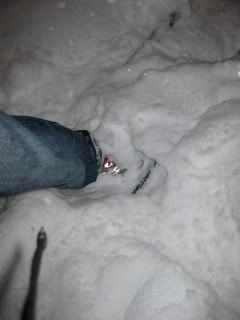 As you can see, I obviously had the wrong shoes on. I asked my buddy if my sneakers would suffice. Clearly they wouldn't. They were covered in snow and when it started to melt, my shoes were soaked. Thankfully there was a large heating vent in the cabin (which I forgot to take a picture of. It was 'clothes drying central' there. Boots, scarves, gloves, hats, shoes, jackets... everything that was wet ended up in that corner. It was hilarious.)
And here's our cosy little cabin.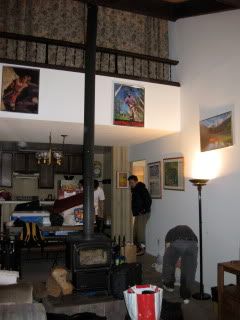 It's small and comfy. Snug is the word I'd use.
And here's the video log of Day 1. Bear with the accent. I'm in 'American Mode'.
And that's Day 1. First experience of snow. We called it an early night and got ready for the big adventure up into the mountains. Stay tuned. There's lots more to come.
LOTS.
Like... really.... LOTS.
FORTGESETZT WERDEN!