IT's Sunday!
No it isn't.
But it is.
In this story anyways.
So yes. I need to wrap up the Mammoth adventure. It's been like 2 weeks already. I'm busy. But I have to get it done because I have more adventures to post and some tasty LPW videos. So onwards!
So Sunday morning. I wake up with aches all over my body. It's ridiculous really. But nonetheless me and Karen (refer to previous Mammoth post for picture) decided to take a hike in the morning to see the mountain town while the rest of the crew went for Day 2 on the Mountain. I would've joined them, but I couldn't afford it. Both financially and physically.
Sigh, I miss the snow already just reminiscing about it now.
To reiterate how much snow there was that day, here's your everyday street sign. Covered in snow.
Yes, it was that high. Fun eh.
More random images. Street clearing.
Gorgeous beautiful white snow!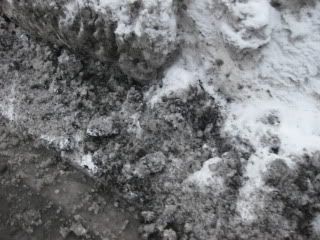 A pair of hilarious snow shoes at some random shop.
I found the next series of images to be utterly hilarious. With all the snow, you see vehicles moving around town with what I call 'snow cakes' on them.
Then of course, some vehicles have been still for a little too long.
That's supposed to be a van. I think.
I make my first lethal projectile.
Sadly my plan to have everybody pelt me with snowballs failed. And I wasn't about to pelt myself with one. So I settled for some snow art instead.
But then my hands got too cold. So instead of a snowman, I settled for a crudely made 5-second snow-face.
Everything is so white that my camera is all screwed up. I don't even know what settings to put it on. It all looks so dark in the pictures, but in reality it's all shining white. It's so white it's almost blue. Seriously.
After our little hike, we met back at the Ski Lodge. While waiting for the rest to finish up, a few of the non-skiers went for a walk around the place. Some more random images.
Some plaster cast footprints of animals in the wild; Canyon Lodge where we were; Mammoth; A random bear; a random skier.
Lunch was stew. Yum.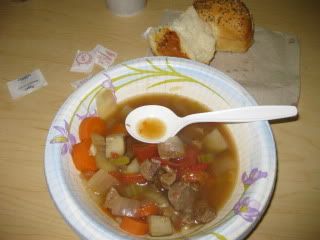 And finally, it was time to head home.
The road back. The beginning of what will be KJ's photo tour of the mountains. The next slideshow of images will be available for postcard printings at a cheap $1 each!!! Order yours today!
And that concludes our Mammoth Adventure. But Nature wasn't done showing off yet. The night finished with this amazing moon.
_____________________________
Stay tuned for my little performance at the Catalina Jazz Club. Yes. The very same you've seen me post in the past. Very exciting stuff.
Cheers.