THE JOHN WILLIAMS ADVENTURE!
Yes, you heard right.
I went to see John Williams in concert with the LA Philharmonic Orchestra at the
Hollywood Bowl
. It's such an awesome venue. And such an awesome atmosphere. 18,000 people showed up and Mr. Williams was there himself to conduct the orchestra.
Apparently he does it every year and every year it's different. This year we were treated to a whole set on Harry Potter (with the new movie out and all) and a whole bunch of favourites. I'm wayyyy at the back so don't blame me if you can't see anything because I couldn't either. But hearing some of these theme songs live just puts a smile on your face.
Before I get to the videos here are some pictures first. We actually had a picnic before the thing started at 8:30, but I didn't take any pics of that because I was too busy eating.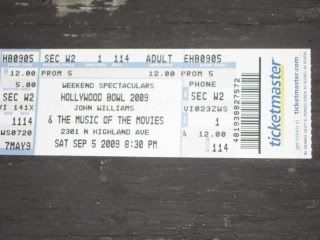 My ticket to the 'Music of the Movies' Night.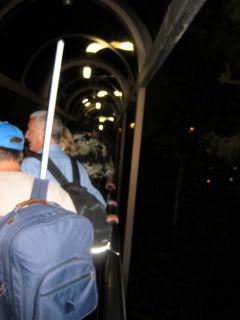 Up the escalator into the BOWL...
And into the huge mass of human beings.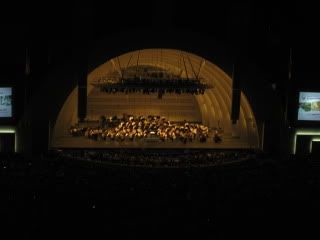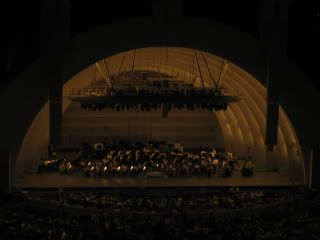 Since I was so damn far away, that was the best lighting I could get for my camera in nightshot mode. Thankfully the videos are a little brighter for some strange reason.
Now, the videos bit was a little tricky. Since nobody had any clue what he was going to play next, it was a hit and miss thing with the guessing. I basically recorded the start of every song so I wouldn't miss the opening notes. Of course I ended up with a whole bunch of small clips that were meaningless and this meant I ran out of space really fast. And it didn't help that I only had 15 minutes on the darn thing.
They opened with a Harry Potter set (with the new movie out this year and all..). I didn't record the entire thing mainly because I realised I would run out of tape pretty quick and I could only record so little. And also because not many of you would know the songs anyway.
That was the opening. And it cut off pretty quick.
And now.... for something more.. SUPER
If you look to the left later on, they had screens on the sides showing the movie clips. I have no clue why Batman was in there as well. But there you go. I think you can see quite clearly the superman sign.
And last but not least... the one everyone knows..
The moment the song comes on the crowd goes wild and all the light sabres light up. It was hilarious. Everyone just goes nuts when this song comes on.
They played the Imperial March (to all you people who don't know what that is, it's the evil Darth Vader/Empire Armysong, then again if you don't know it you probably should kill yourself) as the finale. Like I said, the filming was pretty hit and miss so by that time I had already run out of space and my battery was dying. And I was frantically trying to figure out which videos I could delete... and I couldn't hear a thing. So I just decided to forget it and enjoy the EVILNESS of the Imperial March.
John Williams is awesome.
I might just see him again next year. Hopefully with some Indie Jo.