I just got back from a 30 mile +++ bike ride from my apartment to the beach, around the beach, and then back to the apartment.
My feet = rosak
I'm not going to update anything yet. I think I'll do that tomorrow. But this is the start of the GREAT HOLIDAY ADVENTURE!
More to come. Stay tuned to this post.
X____X
*UPDATE* UPDATE * UPDATE * UPDATE *
*UPDATE * UPDATE * UPDATE * UPDATE*
Part 1 - The Great Barbeque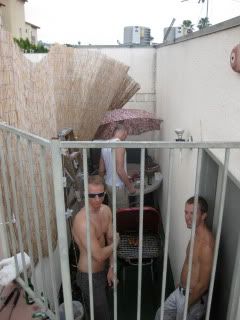 Pictures : My delicious platter, the 'balcony' next to the rooftop (looks like a prison I know hahaha), the delicious burgers, the delicious sausages, the swedish BBQ brigade, the rest of the food
So what happened was the previous tenant at my apartment left us this BBQ grill and we decided to use it for the holidays. MMMMMmmmmmmmmmMmMMmmmmm.... BBQ on the rooftop next to the Jacuzzi.. how awesome is that.
Nom nom nom..
TO BE CONTINUED
...
...
...
RIGHT NOW!
PART 2 - THE GREAT HIKING ADVENTURE
What happened here was a friend from church invited me to go along with him on his weekly hike up the hills. At 5.45 in the morning. That's probably the earliest I've ever gotten up on a Sunday. Yep - we headed up on a Sunday morning before church.
It was pretty darn worth it though. The city was quiet - which is amazing for Hollywood. Hollywood is noisy almost all through the night and I think 5 in the morning is the only time the activity dies. Amazing.
And the view was fantastic. We got to see an ariel view of LA city all around.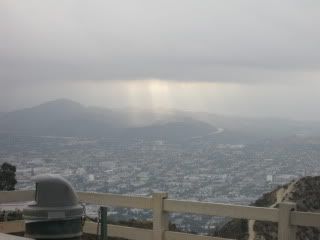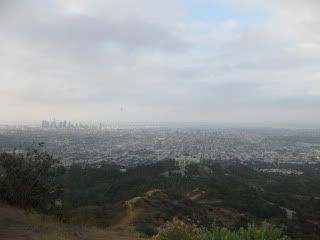 That's what it looks like way up there. I personally love the second and fourth pics. It's like those 'God light rays' that you see in cartoons. Pretty darn awesome. And LA city is so huge that there is no camera shot that I can take that will get the whole city in it. So that's the best I could do.
More to come.
NEXT, ON THE GREAT HOLIDAY ADVENTURE - THE BEVERLY HILLS ADVENTURE! YES YOU HEARD RIGHT! BEVERLY HILLS!
-=OUT=-
-KJ