Ok ok ok ok ok...
Swish swish video is coming.
What on earth is a swish swish video? Well, I guess if you know what drummers are all about you've pretty much guessed it. If you have, don't tell anyone who hasn't. For those who haven't, live with the suspense. *evil grin*
Anyway,
To make up for my tardiness in getting the 'swish swish' video together, here are some random images I took recently of my lab. Some of you guys have never seen my practice lab before. So here it is. This is where I spend my dark and lonely nights every night of the week.
Ironic how I told myself that I would NEVER work in a cubicle and here I am, stuck in what basically is the size of a cubicle, practicing every night. God has a funny sense of humor.
These are the wood chips you see littering the floor. And pretty much 15% of my sticks.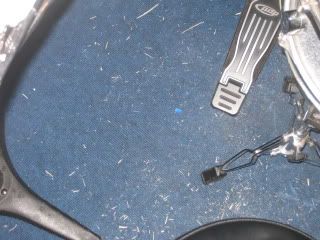 My sticks now.
And the wear and tear contributing the the cleanliness of the floor.
Never in my life have I used my sticks so much. I think my practice here in these 4 months has amounted to more than I've ever played in my life. I've broken as many sticks in this time as I have over my entire course of ever playing drums. Interesting statistic.
WAIT FOR THE SWISH SWISH VIDEO! IT'S WORTH IT!
COMING SOON TO A THEATER (READ:THIS DARN BLOG) NEAR YOU!